Arcanology
The belief and study of the unknown goes back to even the days of the Seraph, where the ancient tinkerers were in a constant state of experimentation with the stretches of the natural—and unnatural—world. Arcanology is the study of all things unnatural in Aloria, from the demonic Vampires to the emerald-fated Phantasma.
---
Dimenthism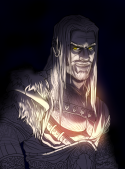 Though internally chaotic, they were all children of the Planar.
Dimenthism is the study of all things related to the Planar Essences. This includes Demonic Possession and Vampirism, but also the Archs, Arken, and Silven.
| Planar Dimensions | Archs | Silven |
---
Arcane Afflictions

They stood in stalwart opposition to the forces of the Void
Arcane Afflictions are embodied by the abnormal and mystic and aren't necessarily related to the Void or Exist. These curses act as juxtaposing powers against those of the Void and the Exist, and in practice, can curb the effects of them.
| Phantasma | Dulofall | Deathlings |
---