Flora
Jump to navigation
Jump to search
Aloria's plantlife is unimaginably diverse. From the magically twisted landscape of Drowda to the pastoral meadows of Evokai, one may find every manner of plant. Some harm, others heal, and many have yet to be discovered. Yet all have carved out a niche in this world, some even helping to determine the rise and fall of civilizations. To explore the botanical life of Aloria, one must inevitably embark on a journey of discovery that uncovers not only the secrets of the land itself but the history and culture of nearly every race and people that inhabit it.
---
---
---
---
---
Vines

Draping vine, or venomous snake? Only time would tell
Vines are found to crawl up, down, around and all over a wide variety of surfaces in Aloria. Often imported across vast distances by unknowing tradesmen, vines from the jungles might easily be found creeping up and around the stone buildings of settlements nearby or even miles away.
• Bloodthorn Vine • Poison Ivy • Rundre Ash Vine • Estel's Jewels • Shen Itja • Seba Iaat • Strangler •
---
---
Reeds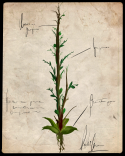 C'mere, little sugar...
Reeds often naturally grow in swamps or humid climates but some, due to their value as trade goods, have been transplanted to slightly cooler climate zones. This value has led to plantations full of these "cash crops" being a common sight in lands such as Daendroc.
• Dúllci Cane • Farran Cane • Rundona • Kaihereret • Teudou •
---
Grains

O', golden produce of Anglia...
Grains have been an essential part of multiple races development over the centuries, the Ailor being just the latest to utilize grains as a fundamental aspect of their economy. Often growing wild before being tamed by early civilizations, most grains are ancient in origin, but new forms have been known to be created or discovered.
---
---