Geography
While the size of the presently-discovered Aloria is comparable to real-world Europe, the distinct landscapes, climates, cultures, and races that cover the landscape are indicative of the world's dramatic diversity and the fantastic sights one would encounter when traveling. The snowy peaks of Ellador contrast the endless sands of Farah'deen, and the Yang-Tzu Islands rival the Regalian Archipelago in size and beauty. Take a moment to read up on the incredible world of Aloria, and the fantastic lands within.
For a list of all Minor Nations and States, click here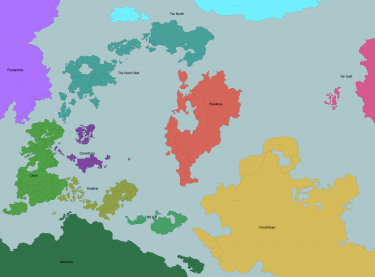 Corontium
Cradled in the middle of everything
Corontium
Pronunciation
Core-run-ti-um
Demonym
Corontian
Population
4,000,000
Area
2,550,000 mi²
Daen
A constant mixing-pot of strife and chaos
Daen
Pronunciation
Dane
Demonym
Varies on region
Population
12,000,000
Area
1,500,000 mi²
Essalonia
A hidden refuge of nature, untouched by the urban habits of Alorians
Essalonia
Pronunciation
Ess-ah-lone-nia
Demonym
Essalonian
Population
7,000,000
Area
1,400,000 mi²
Farah'deen
The land of the shifting sands, and the mysterious people that inhabit it
Farah'deen
Pronunciation
Far-rah-deen
Demonym
Farradi
Population
6,000,000
Area
18,000,000 mi²

Farah'deen is a desert landmass to the far east of Regalia, and is occupied by the Songaskian and Qadir races. Farah'deen is host to a variety of nations and states. The most notable of these is the Songaskian Masaya, but others such as the Qadir Hadrityas reside in the ever-shifting dune seas, stalwart and resolute in their stance. The recent Regalian invasion, as well as the Songaskian Civil War, have left the traces of civilization on its borders war-ridden and devastated as entire towns have been put to sword. Today, Farah'deen is experiencing a time of intrepid peace; one that may remain, or may spill out into bloodshed, as it has before.
Regions
Nations and States
• Songaskian Masaya • Al-Alus • Mooriye • Saruhanna • Hadravia • Malifant •
Provinces
Cities
• Korbamakora • City of Mooriye •
Hadaria
What was once a peaceful and idyllic land now cries tears that will fall for generations
Hadaria
Pronunciation
Ha-darr-ia
Demonym
Hadarian
Population
4,000,000
Area
700,000 mi²

Most recently known for the Chrysant Wars, the ancient home of the Slizzar has seen much conflict in its history. From the refugee Allar taking on leadership by the native Slizzar in Hadar to the rise of Humans as warlords and kings, much of Hadaria's history is steeped in war and manipulation. However, the recent surfacing of Mekett and Maiar in the continent have introduced yet more races to the continent, bringing together cultures that, whilst physically close, are ideologically far apart. Tropical, populous, and rich in aquatic life, the conflict-riddled past of Hadaria entirely betrays its idyllic appearance and exotic cultural practices.
Regions
• Hadar •
Nations and States
• Caernoth • Walforth • Hal Pormonth • Turmenia • Karfanth •
Provinces
Cities
• Tohn Valeer • Barazzt •
Oldt Era
Once the cradle of humanity, this land is now corrupted by a dark shadow
Oldt Era
Pronunciation
Old-t Er-a
Demonym
Ceardian
Population
1,000,000
Area
400,000 mi²
The North Belt
The cliffs are cold; the people, colder
The North Belt
Pronunciation
The North Belt
Demonym
Northerne
Population
3,000,000
Area
mi²
Fendarfelle
Untamed and untrampled, this colonial land is seen as a manifest destiny for its Ithanian colonies
Fendarfelle
Pronunciation
Fenn-darr-fell
Demonym
North Ithanian
Population
300,000
Area
Unknown

Volcanic, colonial, and largely unexplored, the mysterious continent of Fendarfelle has historically been untouched land, only recently facing intervention by Regalia in the form of Ithanian colonies. Despite this lack of activity by the sentient races of Aloria, Fendarfelle is expansive, with unchecked resources simply waiting to be claimed.
Regions
Nations and States
Provinces
• Fendarfelle Colonies •
Cities
Far East
Isolated in its own clutch beyond the rest of known Aloria rests an ancient evil
Far East
Pronunciation
Far East
Demonym
Eastern
Population
300,000<
Area
100,000< mi²

Located far from any other civilization lie the Far East. Home of the Ji races and the infamous Wulong, the Far East is often considered mysterious by Alorians foreign to the land. The Ch'ien-ji often keep to themselves and have only recently opened up to the rest of the Crown Alliance. The Ch'ien-ji maintain the 'Jade Wall,' a magical barrier that keeps their evil cousins from the Shen Xi Empire at bay, separating the rest of Aloria from the old homeland of the Ji: Shi-Yao-Lan.
Regions
• Yang-Tzu Isles • Tsuo Isles • Shi-Yao-Lan •
Nations and States
• Shen-Xi Empire •
Provinces
Cities
• Daishima •
Far North
A land shielded by ice and shadow alike
Far North
Pronunciation
Far North
Demonym
Varies
Population
Unknown
Area
At least 300,000 mi²

Encompassing both Drowda and the Northern Expanse, the Far North is an unexplored and treacherous wasteland unclaimed by any nation or people. Both the mysterious Drowdar and Ohnak races hail from here, and of the two, only the Drowdar care to periodically communicate with the rest of Aloria. The only sense of civilization are the Drowdar Xaster Citadels, which dot the cold and Void-tainted landscape of Drowda. The rest is unknown, and will likely never be known. This frontier is periled by dangerous fauna and inhospitable climates, and is not to be ventured by the faint of heart.
Regions
• Drowda • Northern Expanse •
Nations and States
Provinces
Cities
Oldt Era

Extension:DynamicPageList (DPL), version 3.2.1: Warning: No results.

Hadaria
Sendrass

Extension:DynamicPageList (DPL), version 3.2.1: Warning: No results.

Daen
The Far West

Extension:DynamicPageList (DPL), version 3.2.1: Warning: No results.

Corontium

Extension:DynamicPageList (DPL), version 3.2.1: Warning: No results.

Fendarfelle

Extension:DynamicPageList (DPL), version 3.2.1: Warning: No results.

The North Belt

Extension:DynamicPageList (DPL), version 3.2.1: Warning: No results.

Far North

Extension:DynamicPageList (DPL), version 3.2.1: Warning: No results.

Far East

Extension:DynamicPageList (DPL), version 3.2.1: Warning: No results.