Flora
From MassiveCraft Wiki
Aloria's plantlife is unimaginably diverse. From the magically twisted landscape of Drowda to the pastoral meadows of Evokai, one may find every manner of plant. Some harm, others heal, and many have yet to be discovered. Yet all have carved out a niche in this world, some even helping to determine the rise and fall of civilizations. To explore the botanical life of Aloria, one must inevitably embark on a journey of discovery that uncovers not only the secrets of the land itself but the history and culture of nearly every race and people that inhabit it.
For a list of all Flora, click here
---
Trees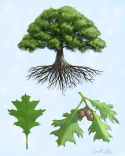 The tall and ancient protectors from storm
Growing from small saplings into huge leafy towers that can dwarf even Orcs, trees can be found throughout Aloria. Which a large number can be found thriving in the thick jungles of the Daen supercontinent, some types are found to grow even in the harshest deserts of Farah'deen.
• Dragonet Apple • Lanarra's Hand • Drachenwald Nuttegg • Laoyan Tree • Royal Oaks •
---
---
---
Herbs

Three leaves meant salvation; four meant inescapable death
There are a wide variety of herbs that serve all different kinds of purposes in Aloria. Some are used in alchemy, others in cooking and others still in art. Most are root plants, with unique properties contained in their anchors to the earth but some instead keep that special something in their leaves or stems.
• Hempaben's Herb • Dagruhn's Clove • Modrá's Root • Wormfern • Toutong Cai •
---
Vines

Draping vine, or venomous snake? Only time would tell
Vines are found to crawl up, down, around and all over a wide variety of surfaces in Aloria. Often imported across vast distances by unknowing tradesmen, vines from the jungles might easily be found creeping up and around the stone buildings of settlements nearby or even miles away.
• Bloodthorn Vine • Roughvine • Stranglers •
---
Mosses

Don't touch the blue moss!
Moss is usually soft to the touch and easy to find growing on damp materials from rocks to trees. They also have a wide variety of uses from serving as an impromptu medical tool to a food source to helping light some of the darkest places in Aloria.
• Gassa-Moss • Brightmoss •
---
---